Yesterday while my friend and I were preparing lunch,
the children came in yelling,
"A bird is stuck! It's trying to get out of the birdfeeder
but it can't! Come see!"
We followed them outside and they pointed to
the neighbor's yard where there was a sparrow
with its head stuck inside of the feeder.

I climbed over into their yard and
looked inside to see that its head was shoved
all the way in and bent under a metal piece.
There was blood on his side where he was cut
(just a little) from the metal.
I took the top off and gently pushed its head over
so that I could easily slide out its body.
It scared me a bit, because if he tried to resist
or I pushed too hard, it could have really hurt (or killed itself).

But in a few minutes of working with it,
I pulled him out, safe and sound.
He stayed on the ground and rested for a while.
It was so neat to rescue it!
And birds are much softer than they even look!


Today, the Lord gave us a beautiful blue sky
and a wonderful cool breeze.
And we decided to go to the ocean to enjoy it.
Before we moved here, we used to do a lot of 'beachschooling',
which I posted about on my previous blog,
and I have missed the beach.
So I was glad to go!
We went to Subway and picked up some food
to eat at the park across from the ocean.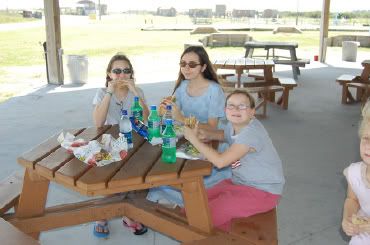 Afterwards, we headed across the road to the ocean...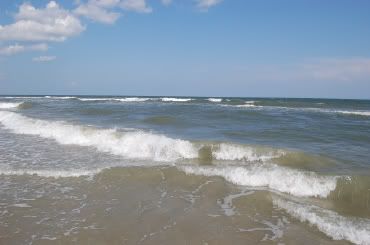 My friends were eager to get me to the water,
so that we could walk and get our 'feetsies' wet.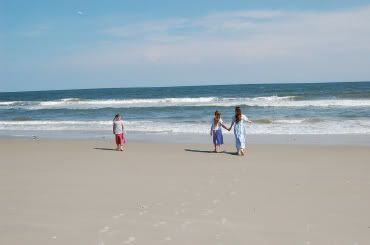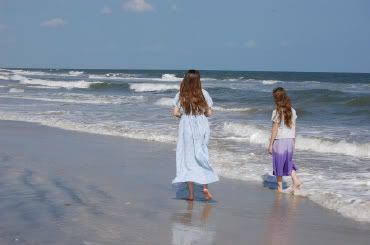 Poor Carolynne wasn't very comfortable with the strong waves,
so I went out with her and she enjoyed it.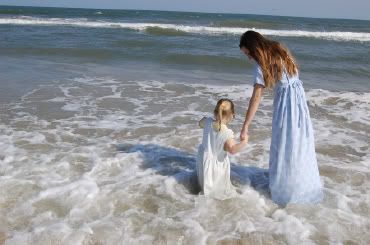 As we looked out on the horizon,
we spied 2 battleships way out there.




We didn't intend on getting very wet,
but when one person 'falls' in, another usually follows. :o)
So we all ended up getting completely soaked.
It was a lot of fun in spite of the fact
salt water kept getting in my mouth and nose.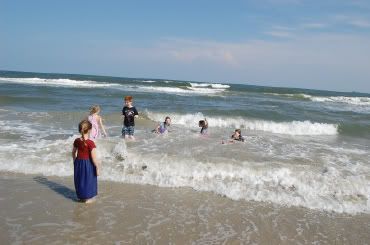 All of us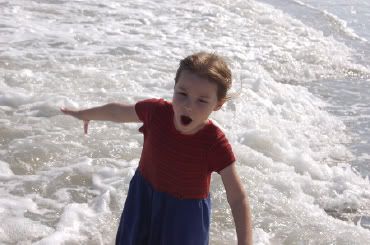 Beth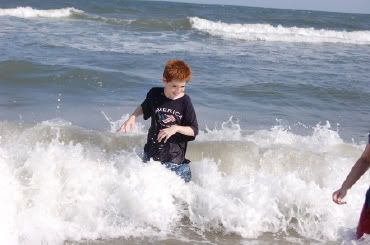 Will

My friend and I enjoyed finding the big waves
and then diving into them ...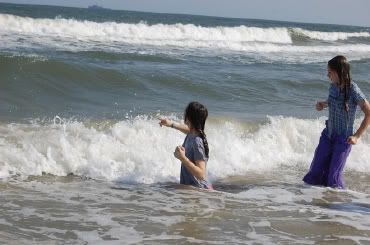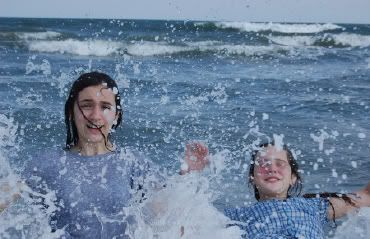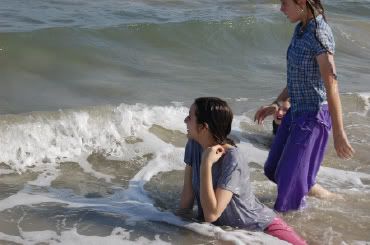 Carolynne was quite satisfied with staying on
the shore and just getting her feet wet.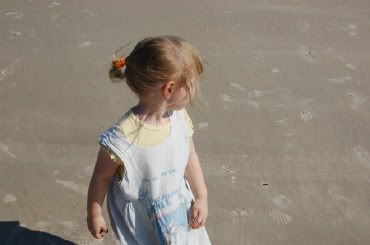 The moms had a blast as well.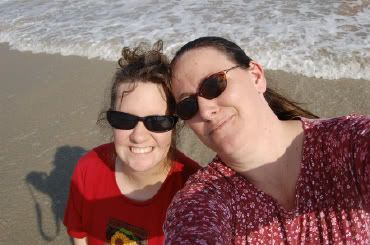 And I thought I'd share this photo because we all thought
it looked like we were about to go down a waterfall...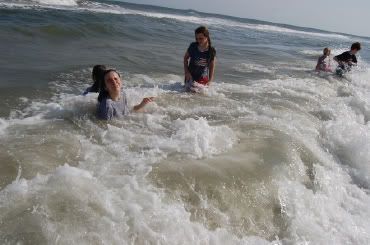 It was a wonderful day and now I'm completely exhausted.
Oh, backtracking to one more unusual thing about yesterday:
As I made the lasagna for supper,
I used a bag of sauce in the fridge that I thought was leftover.
Well, as it turned out, it was really pizza sauce. :o)
It didn't make much of a difference in taste, though!
And we all had a good laugh!

I hope everyone's having a great week,
and I'll try to get around to responding to some
comments tomorrow or the day after.