Last night we purchaed and washed some fabric
that I've been wanting for a while.
This morning I set my alarm for 7:30,
and put it across the room so I'd have to
get up
in order to turn it off,
(a tip I've learned from a friend:)
but somehow I was in too deep of a sleep to hear it.
So I awoke at 8:45 and started cutting out my dress at 9.
I just finished it a few minutes ago and thought I'd share.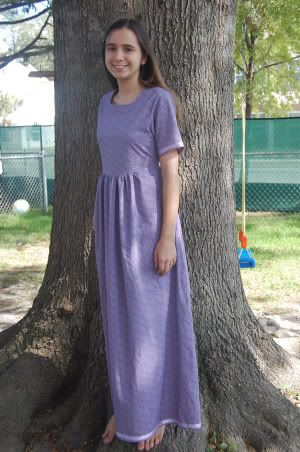 It was the first dress I added ribbon to...


I added the ribbon to the sleeves, the bottom hem,
and used it as my tie.
I, also, finally added pockets to one of my dresses!
Mom always sews pockets in hers and tries to convince
me
that they're worth the extra work... so I tried it.
They are pretty handy!
I'm glad I was able to finish it so I could
wear it to church tomorrow.
Mom also worked at tracing a pattern
and cutting a dress for herself.
Tonight and tomorrow we're supposed to
be getting the effects of a 'sub-tropical storm'
in the Atlantic Ocean. We sure could use the rain.
Well, turkey is for supper and I'm hungry!
Have a blessed Lord's Day tomorrow.