Busy, busy, busy!
There are so many times I want to post,
but I always find something else I need to do.
This week was especially busy with Thanksgiving.
I thought I'd share at least 10 things I'm very thankful for...

1. The wonderful gift of salvation!!!
2. A great family and church friends.
3. The privilege of audience with the King of Kings.
4. The freedom to worship the Lord and to homeschool.
5. The strength Christ gives me to face the battles.
6. The victory He gives in those battles.
7. The trials He has given me to grow me.
8. The grand piano He's giving us in church!
9. The ability to play various musical instruments.
10. Jesus' sweet fellowship,
always being there to hold my hand,
and His faithfulness of never letting go or failing me.


Wednesday evening we had a fellowship
after the church service and giving testimonies.
I made a cake for the occaision...
I also brought along my guitar and violin,
so after the service I played
while the children gathered around to sing...




I, also, played the violin while the men were moving the piano out
for the new grand piano that I mentioned we're getting!

Thursday we had a family Thanksgiving dinner...




We had ham, mashed potatoes, oreo fluff, and various other goodies.
Then afterwards, we set up the Christmas tree.
This, being a major bird lover, is my favorite ornament!


Yesterday I sewed my Christmas dress for our family photos.
Mom made hers and is now working on the girls' as I type...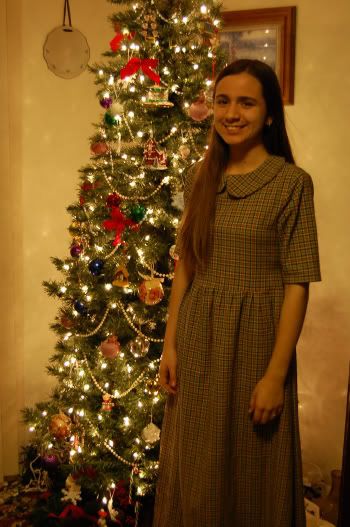 Today we had some old friends visit,
which was a blessing.
I decided to give myself the day off from schoolwork
Thursday and Friday, so I'll probably catch up some today.
I hope you all had a great Thanksgiving!