As our usual Friday tradition,
our friends came over and we had a great time.
We had fun doing Bible study and fellowshipping.

Before I go further, I wanted to say "Thank you, Mom"
for the baking book she purchased for me!
Oooooh!
It was so thoughtful and sweet of her!

Perhaps you can guess what my friend and I did?
Oh yes! We spent 40 minuets drooling over the book
and then we had to make the hard choice of what to bake!
We decided on chocolate mint wafers... yum!
(these are NOT our wafers, unfortuneately,
these are from the book)
Thankfully, we had just enough mint extract!
So she started mixing the cookies
and I started making the sourdough pizzas
that we have every Friday...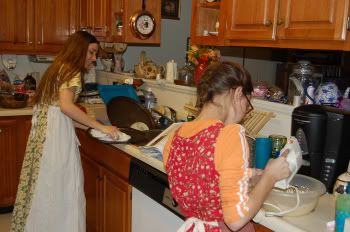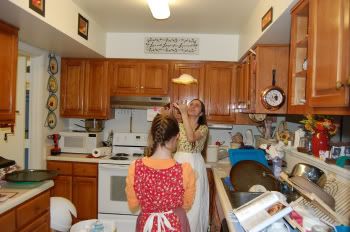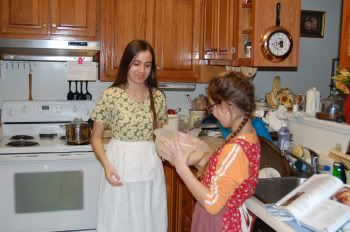 We had a great time in the kitchen.
After the pizzas were done and the dough was chilled,
we sat together making shapes for the cookies.
Lots o' fun!

I've also been really busy crocheting gifts.
I'm finally almost finished with Mom's, but I can't
tell you until after Christmas because she reads my blog ;-)

I've also really been enjoying my Advanced Chemistry...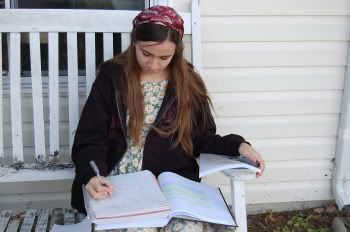 I've finally learned all there is to physical chemistry
(my favorite branch of chemistry!) and I love it!
Actually, the one who wrote my Advanced Chemistry
said that most chemists don't like physical chemistry
and have a difficult time comprehending it.
But I sure LOVE it!


Speaking of Chemistry,
we did one of my experiments together yesterday.
I dippped a Q-tip in colbat chloride solution
and wrote on a piece of blank paper.
You couldn't see it until I blow dried it,
and the solution was readable in blue...
(Please excuse the hideous faces mom caught us in!)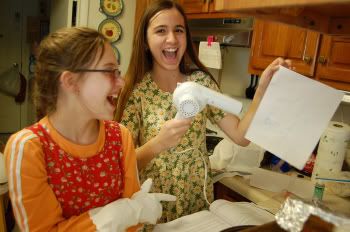 (Colbat Chloride is originally pink,
but I won't explain all the deatils in the experiment! ;-)
You can hardly see the writing in the picture, though.

The Lord's creation is SO wonderful and complex!
How can anyone believe this all happened by chance?
There is so much evidence of God in His complex creation!

Well, I hope everyone's had a great week!
"Therefore also now, saith the LORD,
turn ye even to me with all your heart,
and with fasting, and with weeping, and with mourning:
And rend your heart, and not your garments,
and turn unto the LORD your God:
for he is gracious and merciful, slow to anger,
and of great kindness, and repenteth him of the evil."
Joel 2:12&13