Well, I'm back!
(Sorry it took me so long to post!)
I thought I'd share photos of our trip!

We arrived last Monday and had a blast.
On our way to my great aunt's,
we passed byLowe's Motor Speedway.
They had just had a race on Saturday
and we weren't allowed to go in the race track,
since they were cleaning up from Saturday's race.
But a nice security guard let us in and gave us a 'v.i.p.' tour!
And there were a few racers driving around, trying out their new tires!




It was neat! And loud.
Cars zooming by at 200 mph literally shook the ground!
But we did have fun.

After that, we went to my aunt's.
We had supper, fellowship, and I played my violin
outside on her front porch.

The next day, we got up early and went
to the Carolina Rennaissance Festival!
(Which was our main destination for this trip!)
Upon walking up to the gate,
we said hello to a lady playing the bagpipes!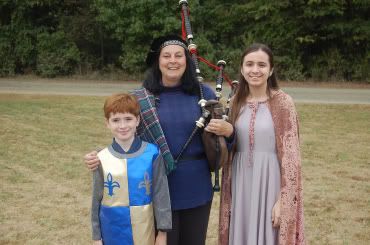 (By the way, I made the cape the day before we left
to go along with my dress!)

The queen, princess, and prince gave us
a warm welcome, then a cannon fired and the gates opened.
We first went to watch two hilarious men perform a duel and more,
Don Juan and Miguel...




After that we walked around and did various other things.
It was really neat having people talk to me
in a Rennaissance style and always say, 'M'lady'!
I was able to practice my OldEnglish
and did a lot of curtsying!
We all really enjoyed a lady playing the celtic harp...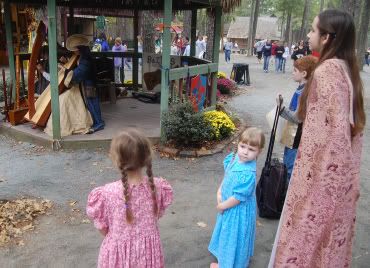 After more walking around and doing other things,
some special people arrived!
We got to meet the Brittany and her family at the festival!
Here we getting ready to watch the joust...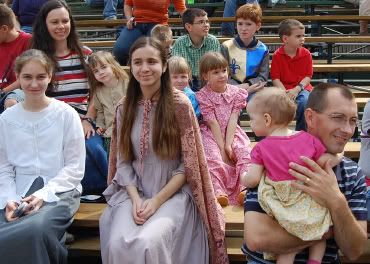 Will and his new friends...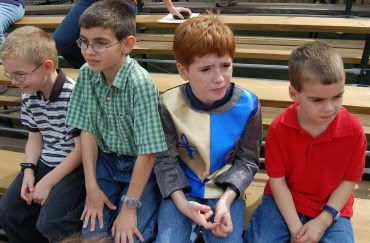 Brittany and I...




It was a fun jousting tournament to watch!
Afterwards, we went to the petting zoo.
Then Brittany and I took our younger sisters
on the giant rocking horse...




After that we left and had dinner together.
On our way out, Brittany and I had our picture taken with...



.. Not quite our 'knight in shining armour'!

I really enjoyed meeting them!!!

On the day we left, we went to an ancestoral homesite:
the Hezekiah Alexander homesite and the Charolotte muesam.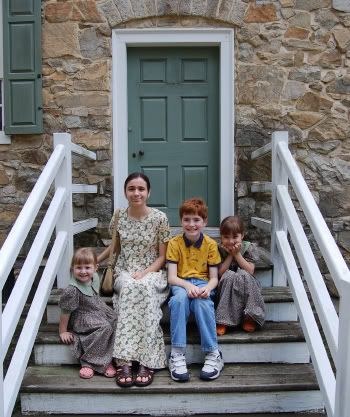 We also had our picture taken with a statue of our
great great great.... etc...(grandfather) Hezekiah!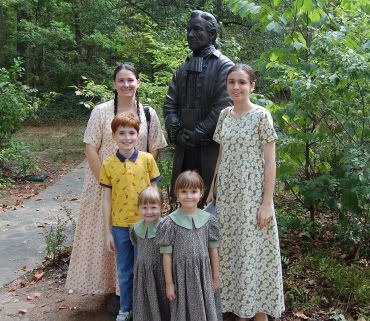 Too bad the house wasn't passed down through generations :(
The muesam had some great things in it too.
I especailly liked this old pianoforte...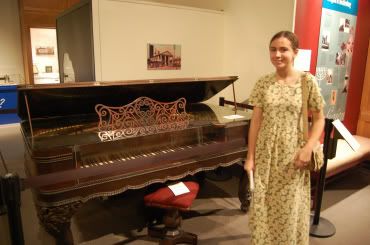 It was a lot of fun as well.
Then we made it home just in time
to be about 5 minutes late for church!

Oh, before I close, I just thought I'd say...




LOL!
(Excuse the pirrahna plant thing,
I was attempting to make a rose for the first time
and obviously failed!)
I made the cake last night for us to eat today!
Sourdough pizza night with our friends, as usual! ;o)
Stephani and I practiced some violin and piano duets.
And earlier this morning, my family went to the dentist!!
I love them almost as much as I love the doctors!
Well, I hope you all have a great weekend!