Busy, busy, busy!
That's why I haven't been very consistent with posting.
But now that I'm finished with 11

th

grade (!!!!),
the busyness should die down some.
(Although I do hope to start 12

th

in a month or so!)

Earlier this week, we went strawberry picking.
The weather was beautiful and we had a great time...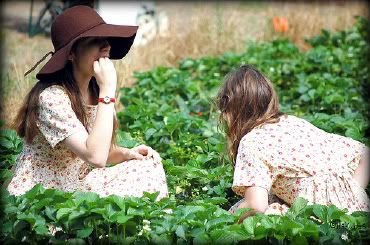 My friend and I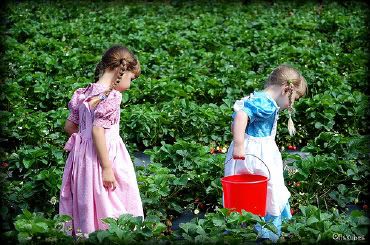 Beth and

Carolynne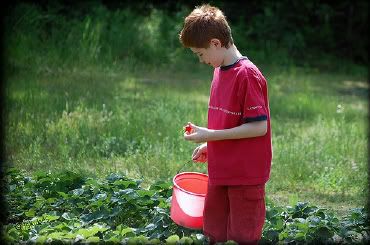 Will

Me

Afterwards we went to our friends' house to jam it.
Well, actually just the moms jammed.
My friend and I were exhausted and decided to rest
and then we sang a while later.
The jam turned out really good...




I was also very excited this week to have my first blossom.
I've never been able to grow things before,
but back in November I decided to try my hand at day lilies
(at least I'm pretty sure they're day lilies)

.
I've been taking care of them every day since,
and on Wednesday I saw my first bloom!
I was so happy the Lord blessed me with my 1st flower!

It was so pretty and smelled good too!
I'm glad to say that today I found 2 more
and lots more are about to bloom!


Recently, I was asked in a comment
about what dress pattern I use.
I make most of my dresses the same,
using the '
Women's
square neck dress'
from
Common Sense patterns
. It's pattern 416E.
I adjust the neckline and the sleeves to my liking.
Also, I do not use the skirt pattern it gives.
I like my skirts
really
full! (Mine have a 12 foot hem!)
So I use the 6 panel
medieval
skirt pattern from
NEWLOOK
.
It's pattern 6614.
I slightly adjust the top of the skirt to make it wider
for more gathering to my bodice
and I also add on 4 inches in length.
Here's another sample of the dress.
My friend and I just recently made ourselves matching ones...

Well, I hope you all have a great weekend!
I plan to post again soon!



"Watch and pray, that ye enter not into temptation:
the spirit indeed is willing, but the flesh is weak."